Stone Sauna/Hot Yoga
1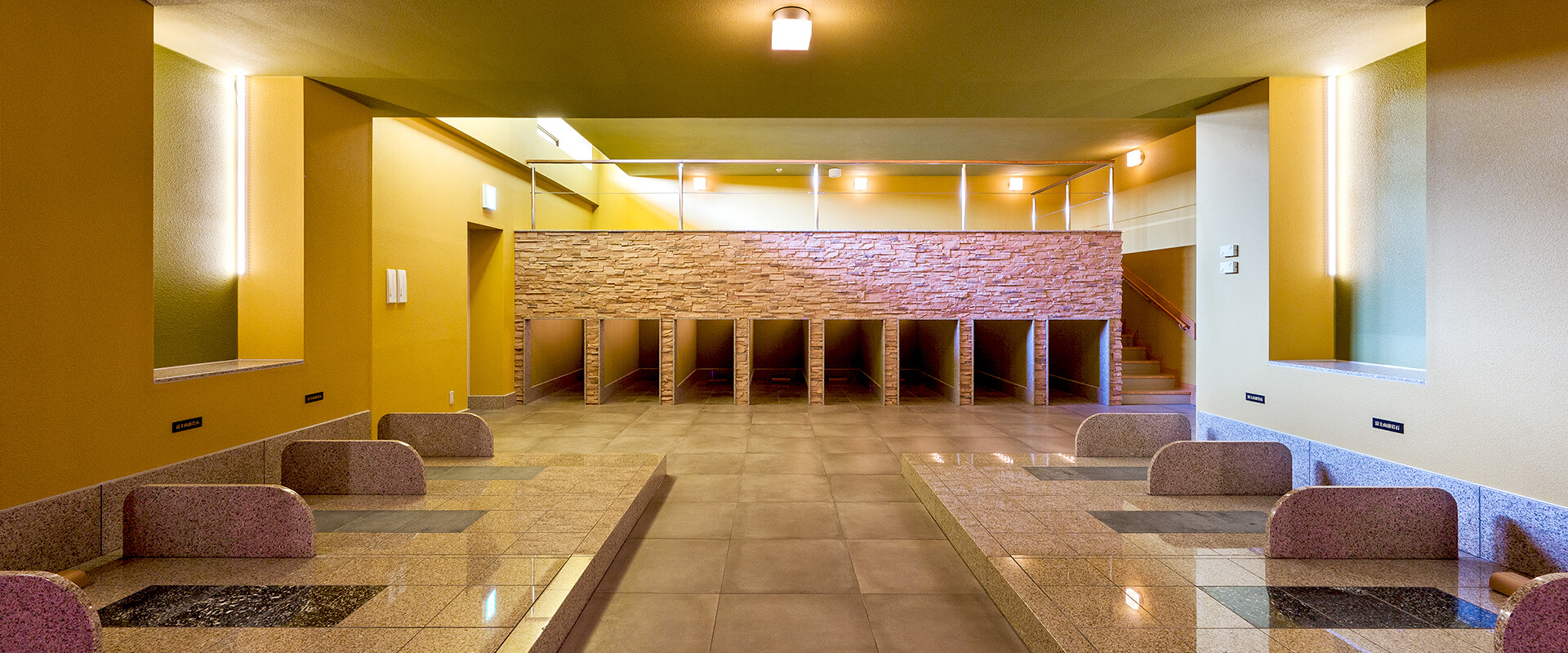 Must wear stone-Sauna wear. Manga/comics are not allowed in this area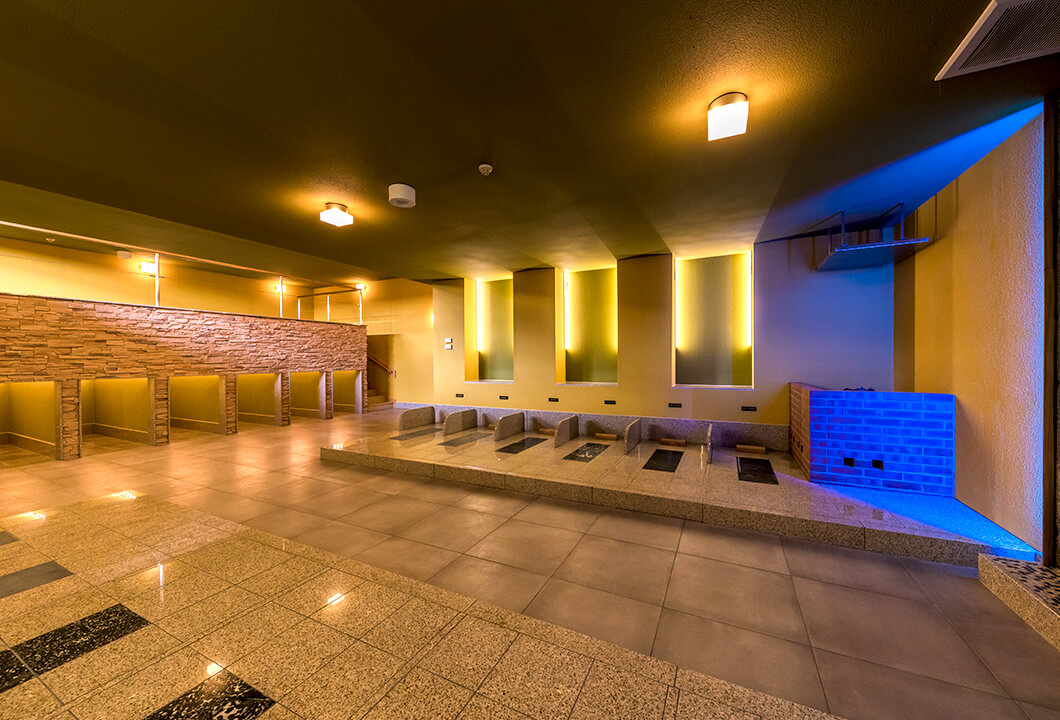 Stone Sauna
The largest Stone Sauna room can accommodate 26 guests and the temperature is set around 42 ℃. Six kinds of stones such as Yokusui, Barley stone, Kodaiseki, Kodai, Tourmaline, Black Germa and Mt. Fuji Lava stone enhance relaxation. The loft area is shaped like a person's back and there is a private space called "Hachi no Su" beneath the loft area.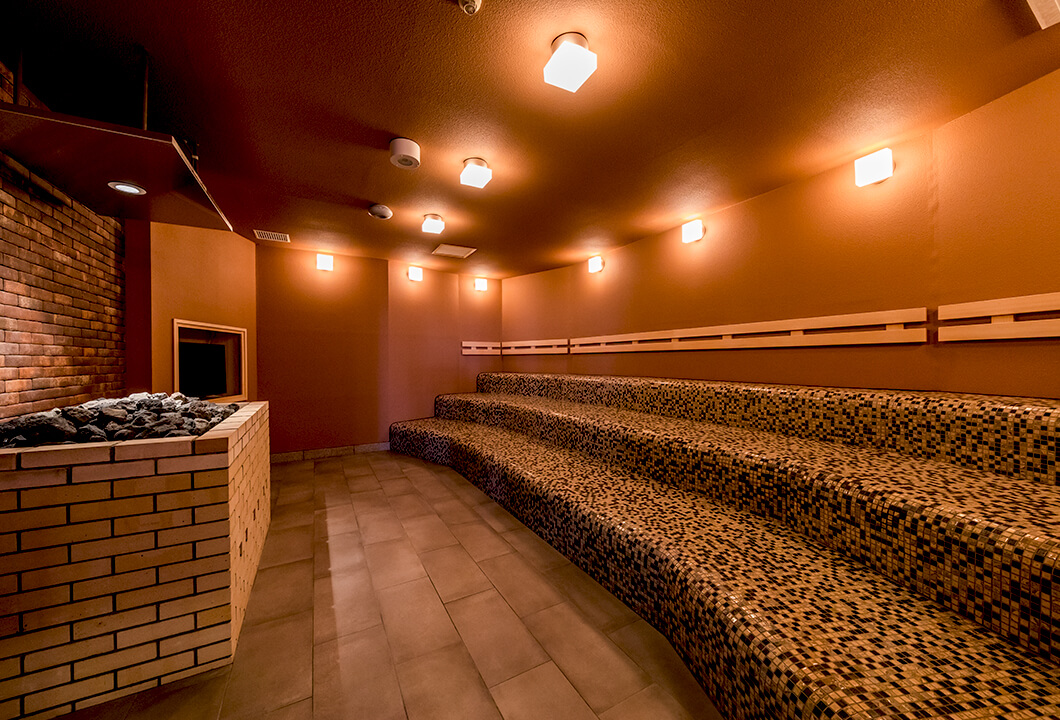 Hot Event
The room temperature in this room is set for 60℃. This event is very popular with our guests and different attractions are held every time. Some of our guests come just to join this event. Besides this event, the room has a stair-type floor plan and equipped with a television so it can be enjoyed as a regular stone-sauna without being bored.
※The Rouryu event room is closed except when the event is held.
Rouryu event is being held with the infection prevention and control method. Please contact us for any further information.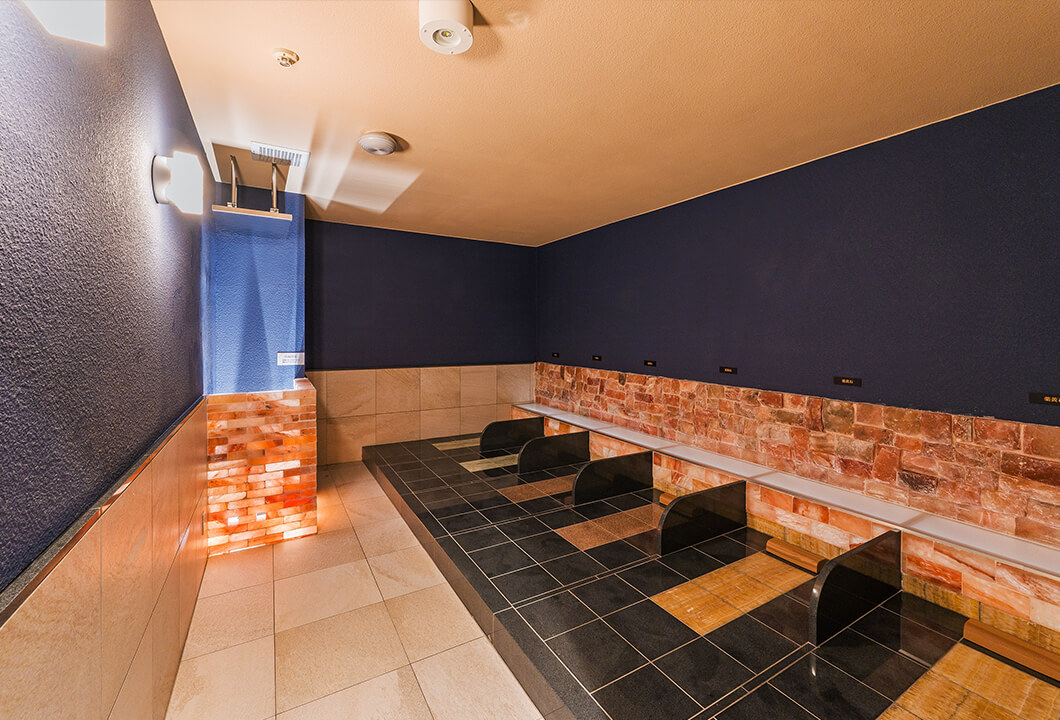 Ladies only Stone-Sauna Room
The room temperature is set at 43℃ and can accommodate 6 guests. The pink salt rock in the room creates a very fantastic space.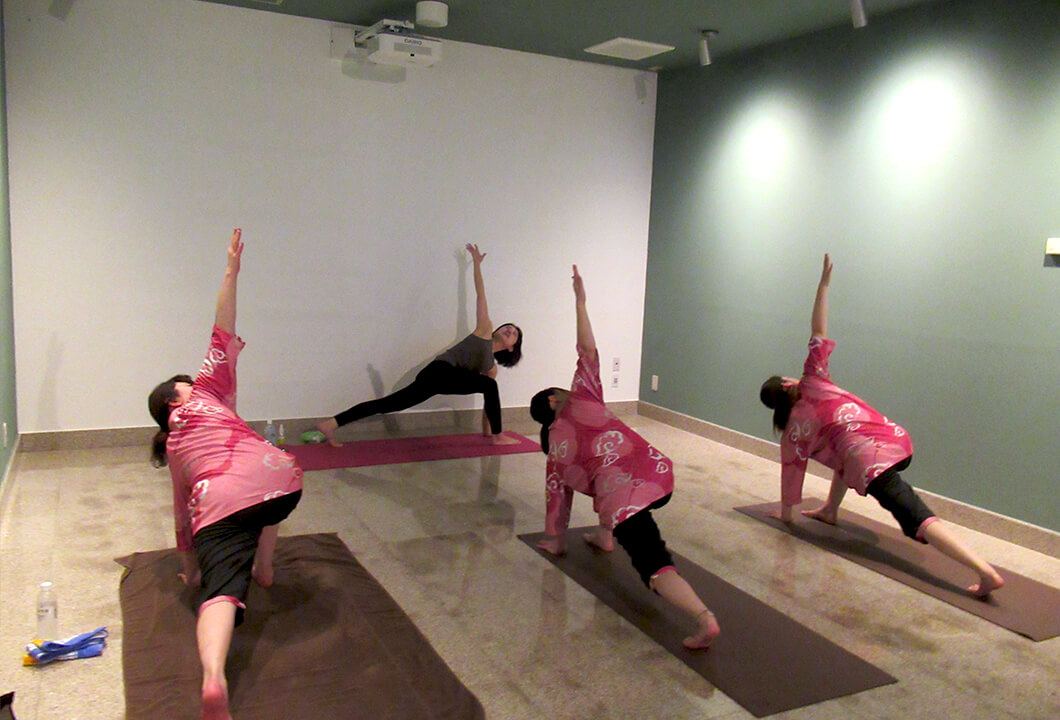 Hot Yoga
Yoga classes experience with professional instructor in a tropical setting with 30 ℃ temperature and 60% humidity even during the winter is available for only 1000yen. Outside of the yoga classes, hot yoga videos are regularly projected and are available for free.
※We are offering a small group of personal lessons for 1 or 2 people.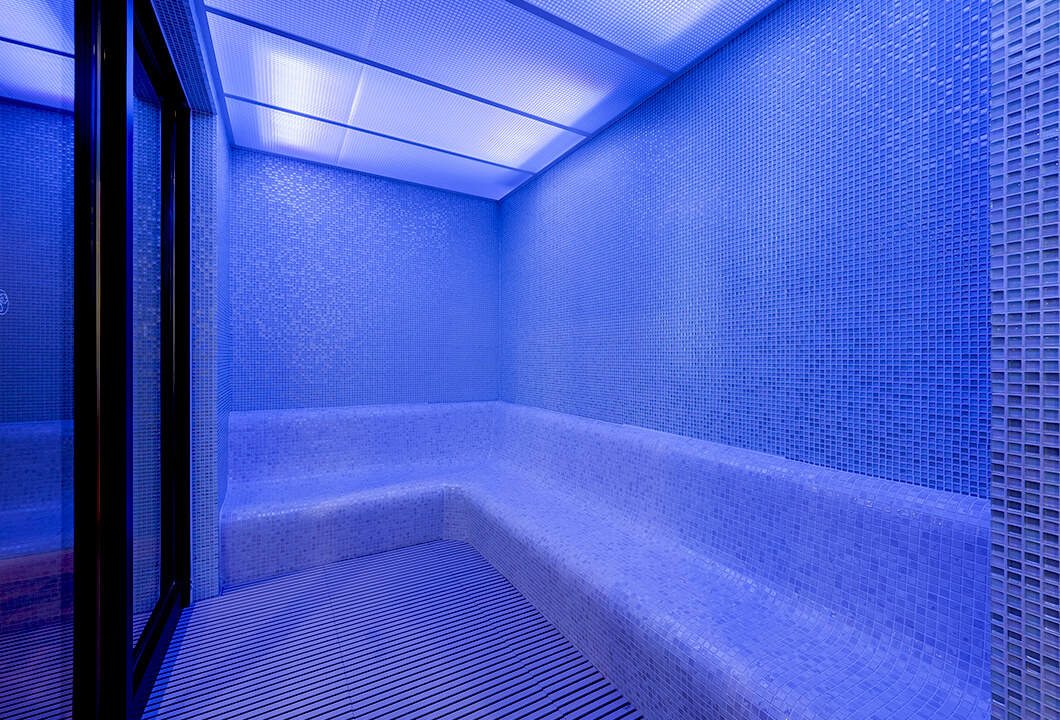 Cold Room
The 8℃ Cold room will Cool off your body after being heated by Yoga or Roryu attraction.
Hall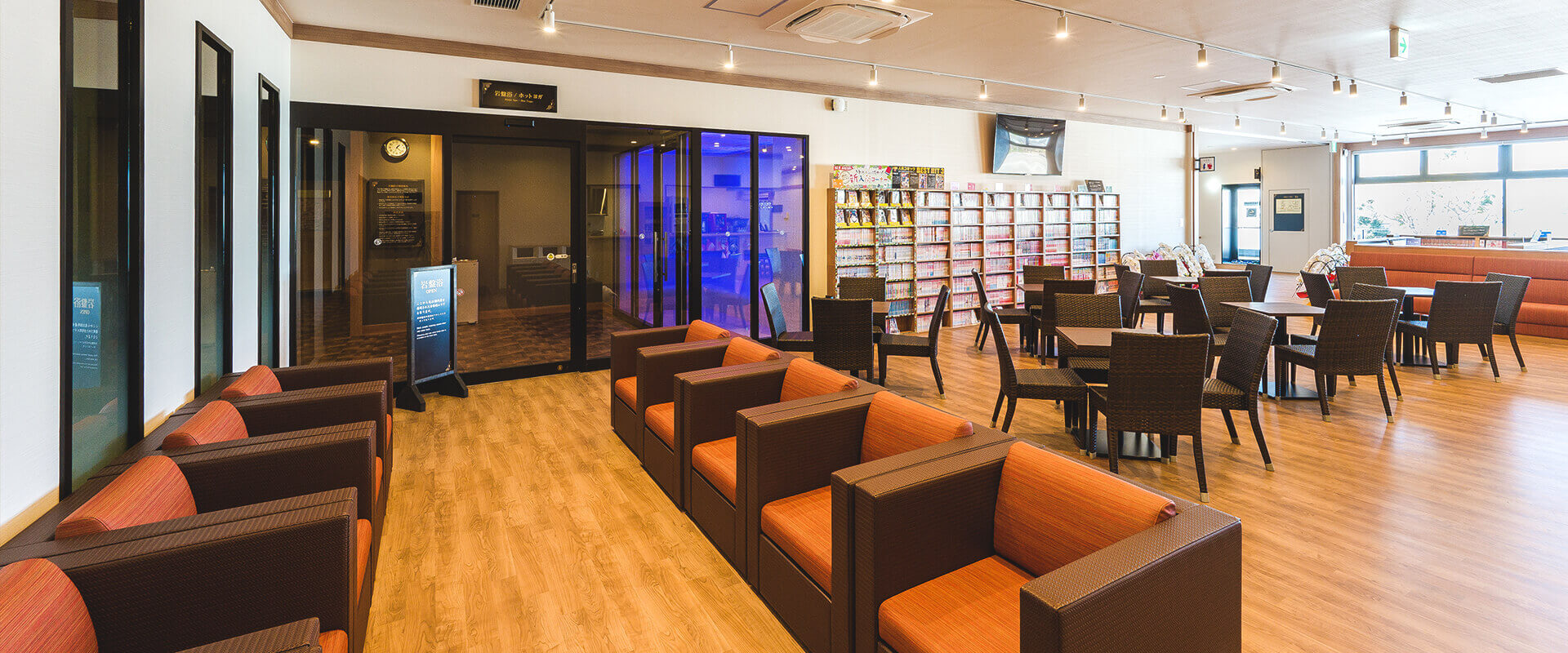 2
Café & Bar "Kirahoshi"
3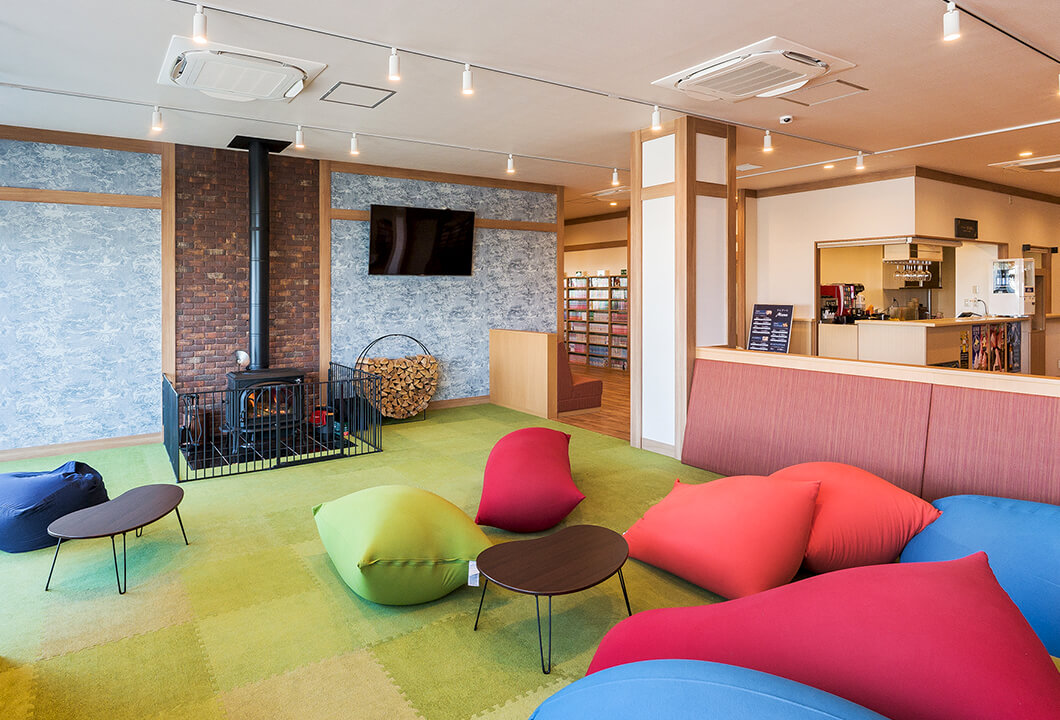 Wood Stove Corner
F500 stove manufactured by the traditional Norwegian Company JØTUL is surrounded by cushions called "Yogibo" which is very popular and said to " Make people lazy". Enjoy your trip to Dream Land gazing at "The flames of Aurora".
4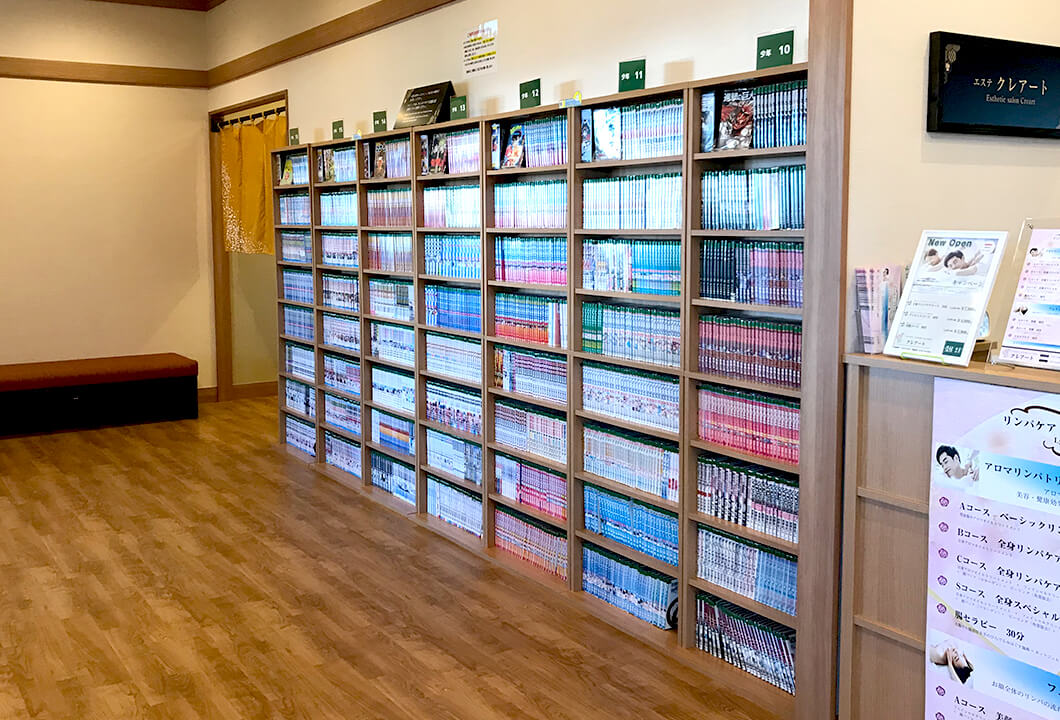 Manga/Comics
Library of over 8,600 Manga/comic books including the latest, popular and discussed titles are available located in the Hall and hallway towards the back for your enjoyment.
Use the manga search service for the manga you are looking for.
5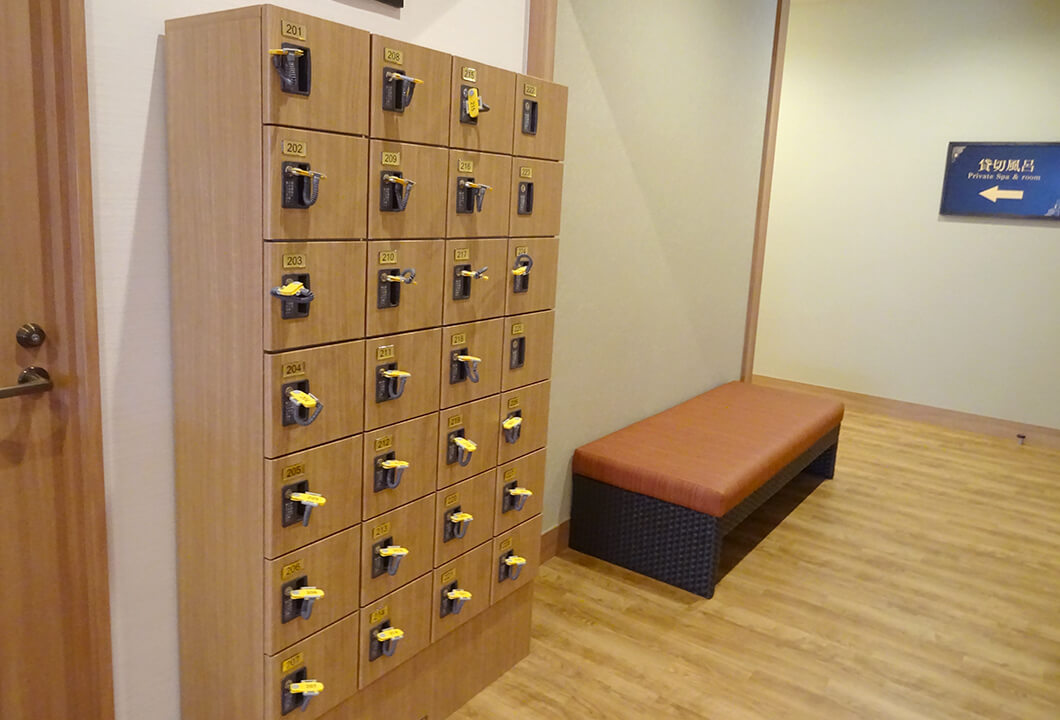 Safety Box
Safety Boxes are located in front of the Front Desk.
We recommend the use of the safety Boxes to store your valuables, specially when there are no attending staffs on the second floor.
Nap Room ( Must wear stone –sauna wear)
6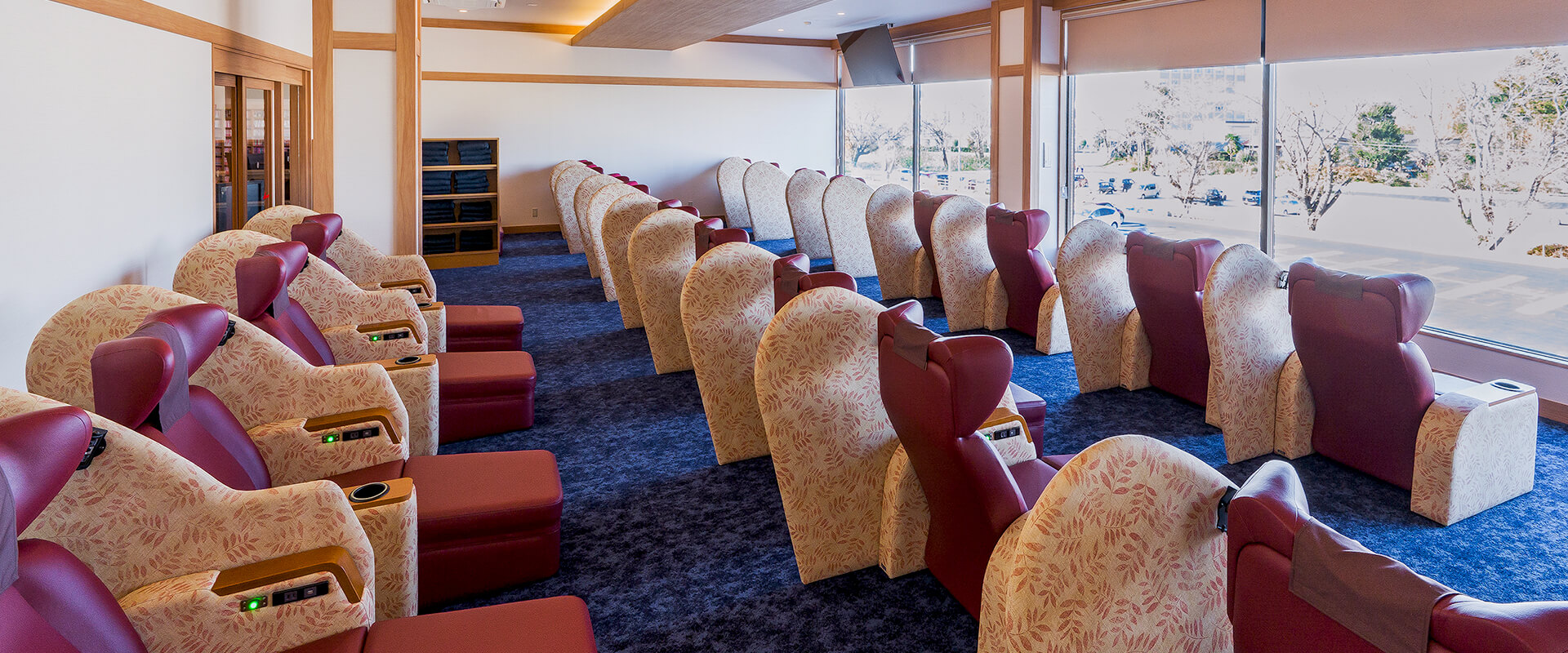 Area where guests can relax. There are 28 large reclining chairs equipped with reading lights and 100V USB ports, in addition, the chairs in front of the TV are equipped with speakers so guests can listen to the TV well without bothering other guests.
Capsule Hotel "Hokutosei"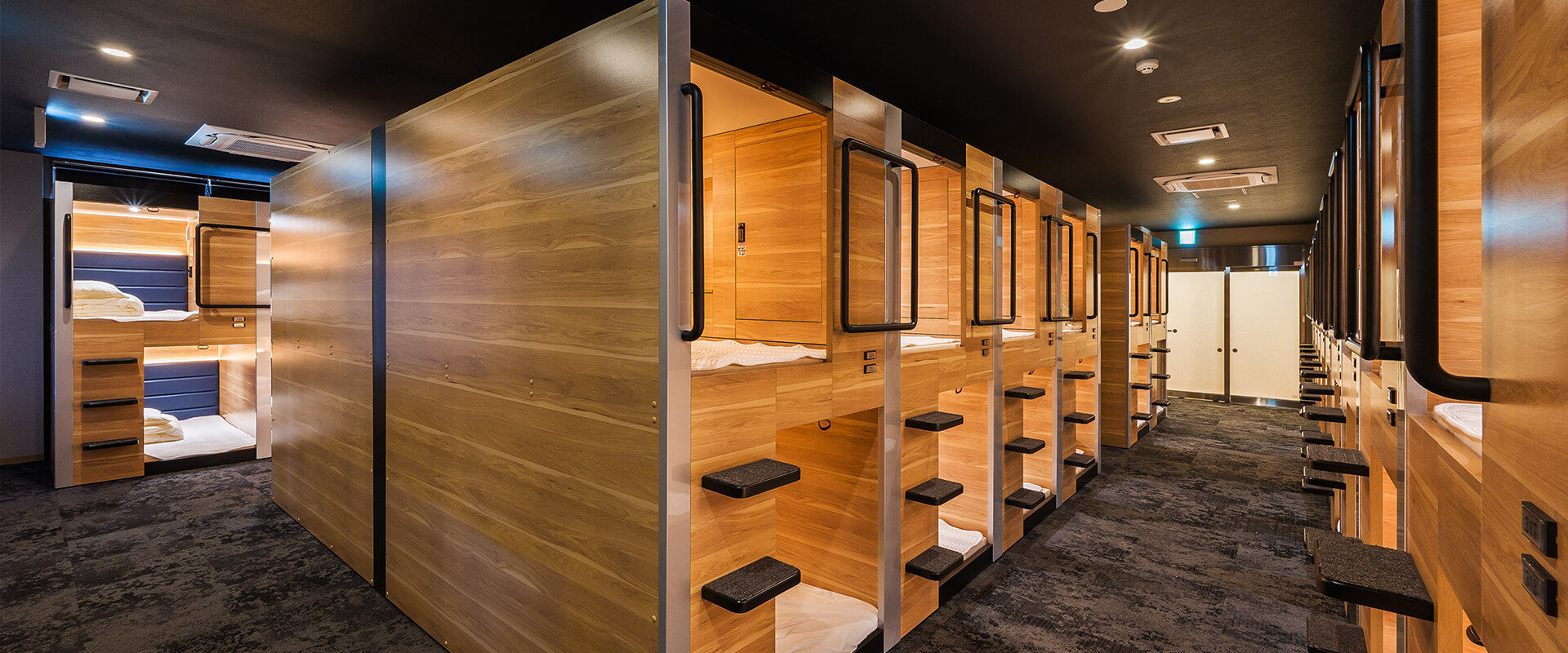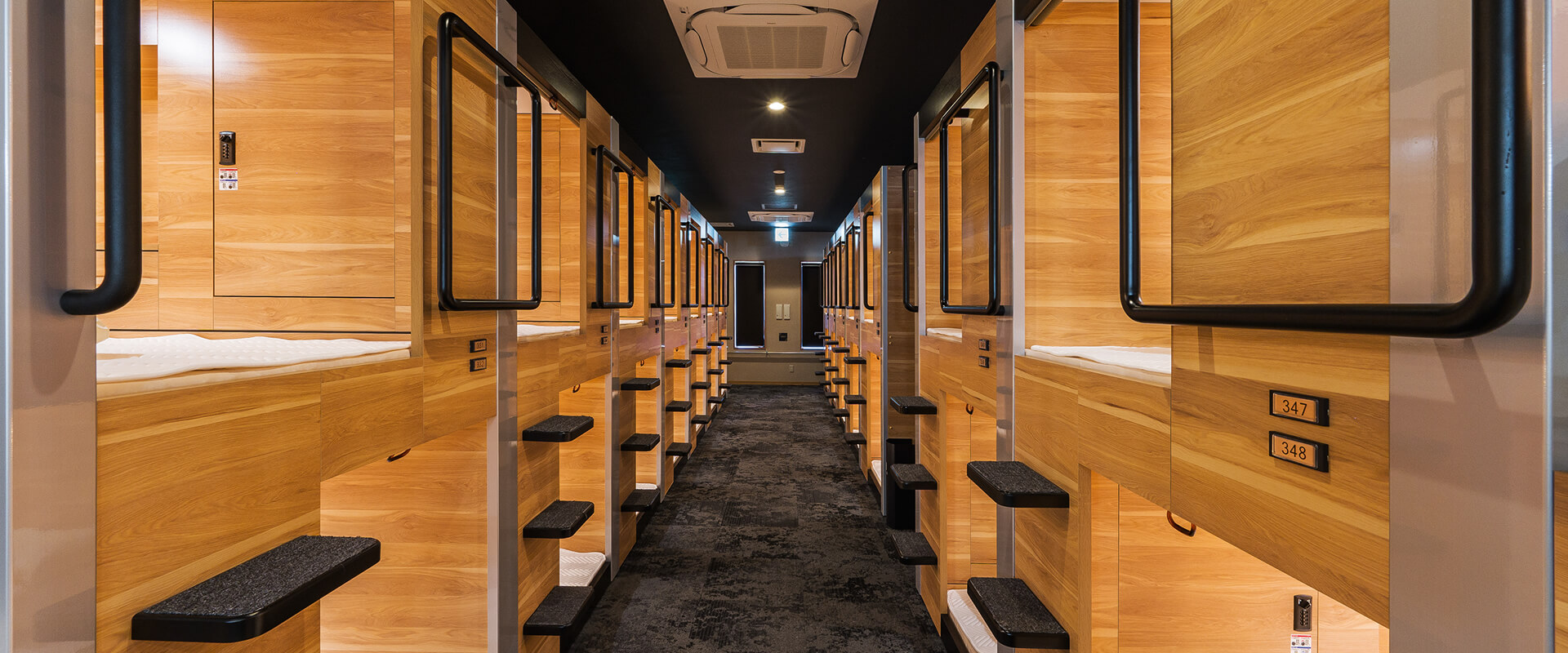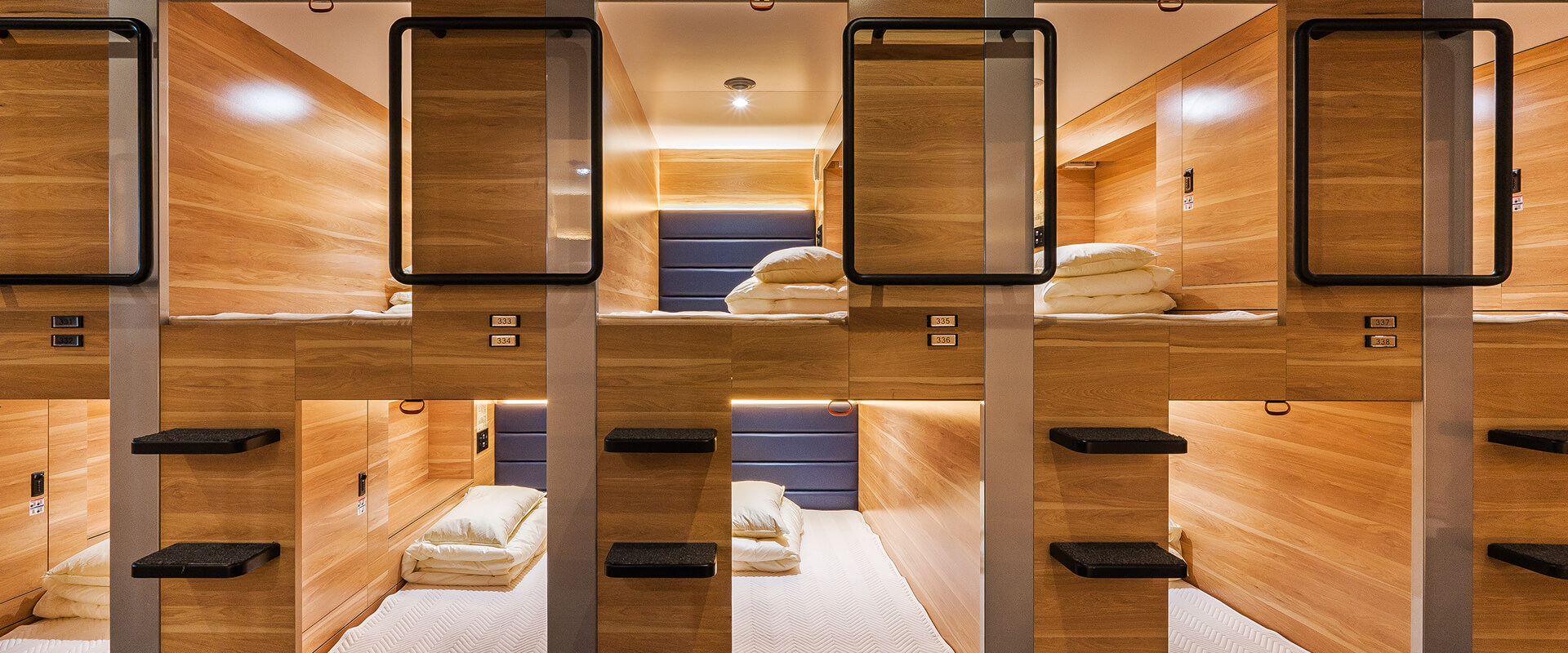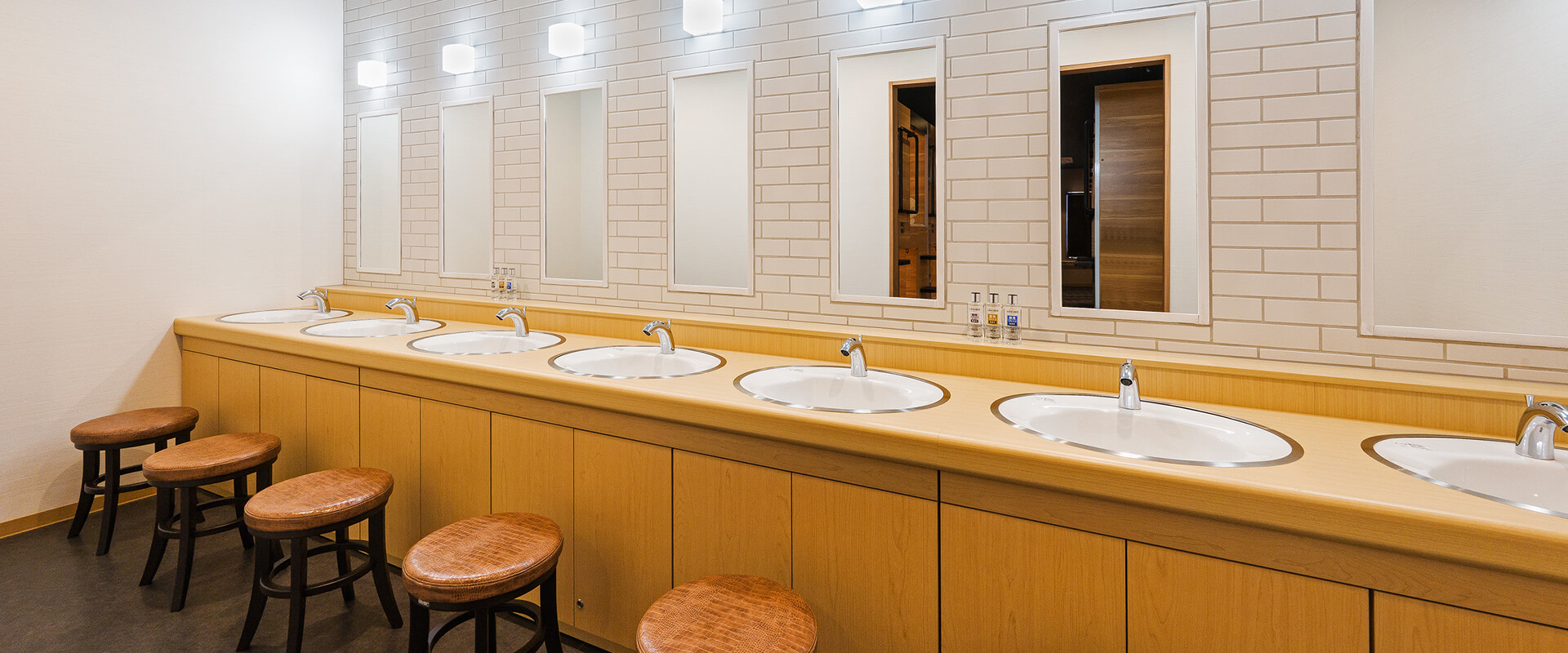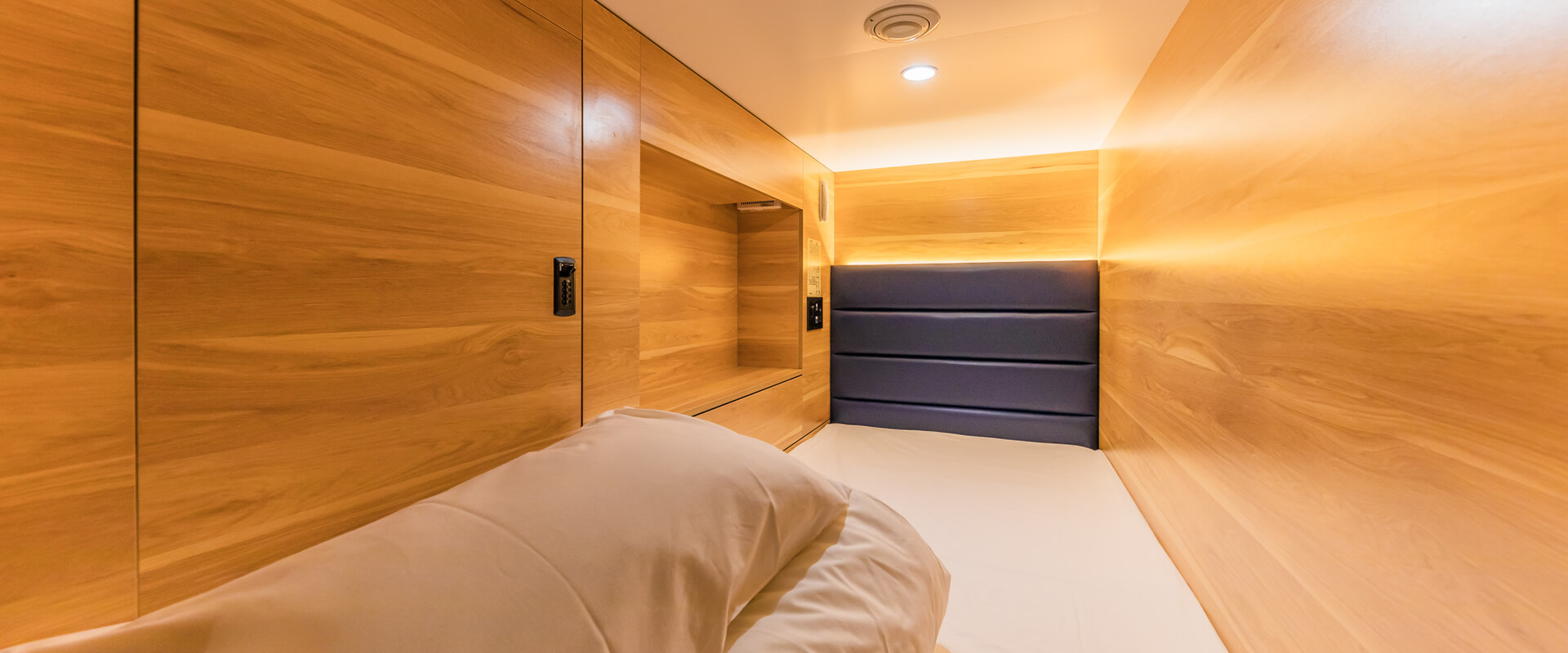 7
By combining low-resilience and high-resilience mattresses with an exquisite balance, we have achieved a sleeping comfort that exceeds the common sense of a capsule hotel. Furthermore, the duvet gently wraps you up, inviting you to a deep sleep.
The 120-bed capsule is fully separated for men and women, so you can spend your time with peace of mind. Experience the best sleep with our original custom-made mattress and duvet.
【Price & Check-in/out】
Adult 4,500 yen~ Elementary school students will be charged 80% of the adult price.
Check-in 17:00pm~23:00 / Check-out 9:00am
【Amenities】
Bath towels, face towels, stone-sauna towels, stone-sauna wear, toothbrushes, earplugs, hair dryer, shampoo, conditioner, body soap, cotton swabs
【Room facilities】
Wi-Fi, USB outlet (typeA) x 2, 100V power outlet, security safe box with dial, flashlight
【Size】
W1.1 × D2 × H0.95 m(1㎡)
【Notes】
・Bathing is available until 22:45. Please note that you cannot take a bath after that.
・Please note that children in the lower grades of elementary school cannot stay in capsule hotels.
・The morning bath is currently suspended. Please note that only showers are available from 6:00 to 7:45 in the morning.
・The free shuttle bus runs from 5:00am. Please see the Access page for the timetable.
・For security reasons, the entrance will be locked at night. If you are late for check-in, please contact the front desk (TEL: 0479-78-2615).
Private Rooms & SPA
Luxurious private setting where you can enjoy the free-flowing Onsen "Soranoyu". Private rooms with 7.5 Tatami mats "Sora" and 6 Tatami Mats " Umi" are available for families and friends gatherings.
〇Day use
【Price】
4,000yen/2hours~
※The "Oisogi" plan or the "Yuttari" plan is needed.
【 Amenities 】
hair dryer, shampoo, conditioner, body soap, hair liquid, hair tonic, aftershave lotion, lotion, latex, cotton swabs
【 Room facilities 】
TV(55 inch), Wi-Fi, 100V power outlet
8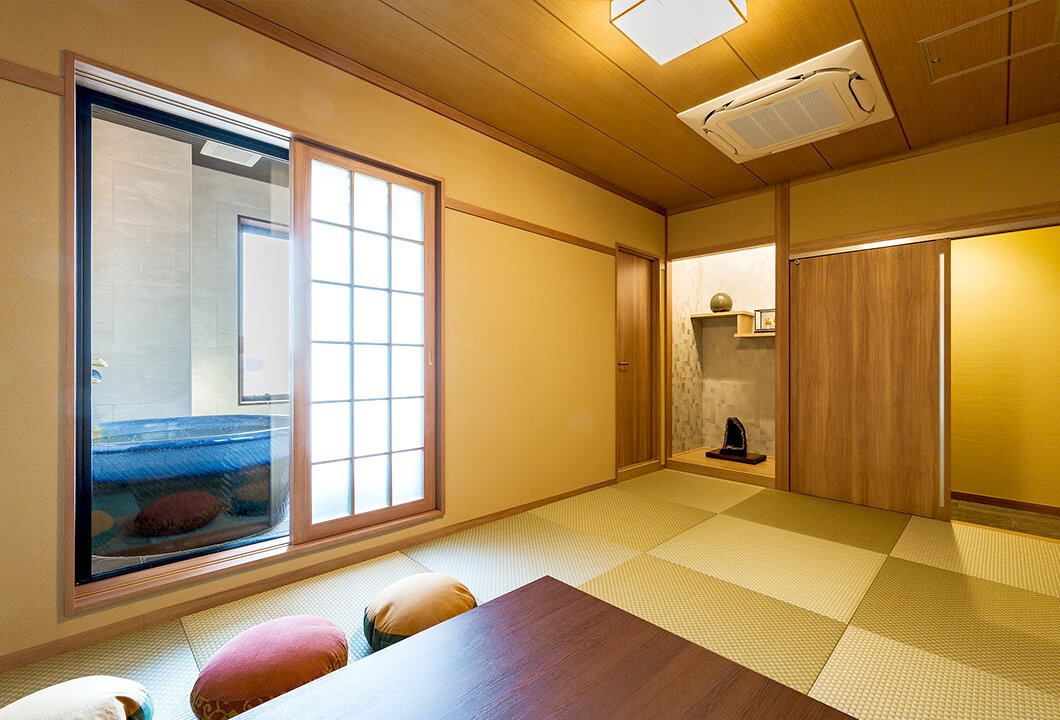 8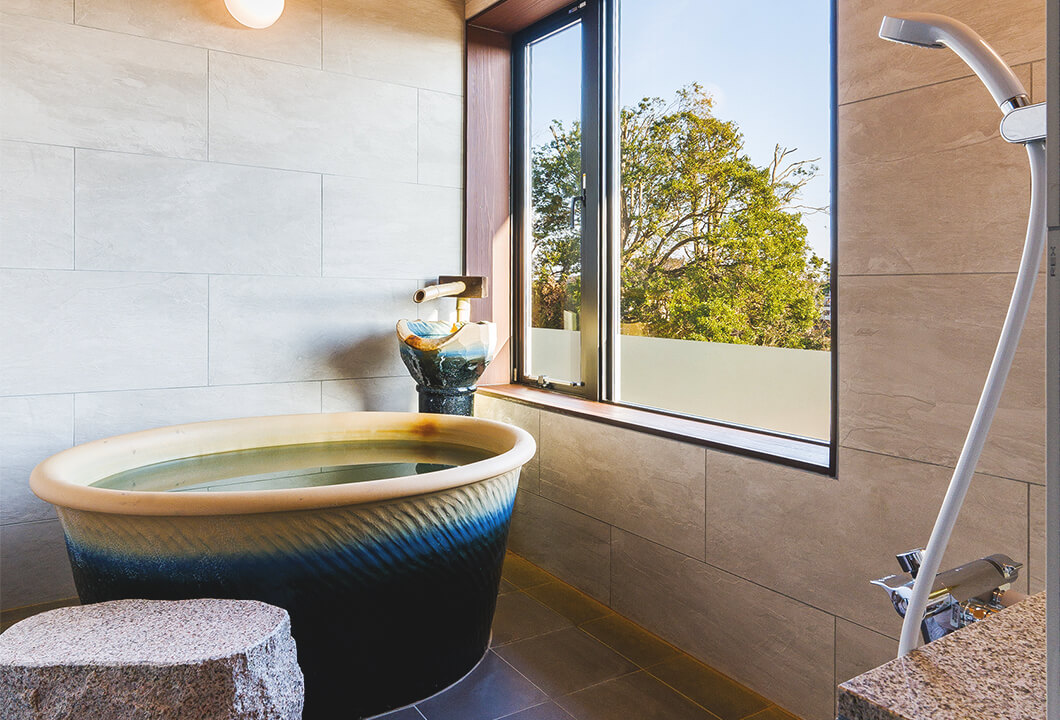 Beauty Salon
3D facial course
The double effect of high frequency deep heat and vacuum technology can be used to treat narrow areas such as the eyes and mouth. By activating elastin (the role that supports collagen) as well as collagen regeneration in the dermis layer, it leads to improvement of skin firmness and elasticity.
Multi-Shape course
Radio waves + patented super pulse vacuum (vacuum suction) are used to loosen adhesions, solidified fat, and cellulite. The loosened fat is made into bubbles by special ultrasonic cavitation, and the impact of the bubbles disappearing destroys the fat cell membrane, creating a body that is hard to rebound.