By Car
You will be guided to the wrong place if you try to search "soranoyu" into the car navigation system. Type "Shibayama-Chiyoda Station" the nearest station as your destination.
From North-side of Narita Airport (Tokyo, Narita, Tsukuba, Tsuchiura)
1
On the expressway, get off at Narita IC and turn the branch to the right "Tako-Shibayama direction".
2
Go through route 295(Airport Road)(right lane)
3
After passing through the "Toka bridge" intersection, proceed toward "Shibayama-Tako"
4
After passing the "Kinone tunnel", turn right at 800m, then turn left at Shibayama-Chiyoda Station at the first traffic light, 100m away.
From South-side of Narita Airport (Tako, Tomisato)
1
Proceed along Shibayama-Haniwa road towards Narita Airport.
2
Turn right at the "Sakashioka" intersection (there is 7-Eleven on the right)
3
Go straight.
4
After passing through the left sharp curve, you can found it on your left.
From Narita Airport Terminal 1
From Narita Airport Terminal 2
By Train
From Keisei Narita Station
Keisei Narita Station
Keisei Higashi Narita Line

5 minutes
Higashi Narita Line
Shibayama Railway

3 minutes
Shibayama-Chiyoda station
Walk

3 minutes
Soranoyu
Spa Resort
* In Shibayama Chiyoda Station, traffic IC card, such as Suica cannot be use.
 We recommend to buy a ticket at Keisei Narita Station to Shibayama-Chiyoda station, or buy tickets from the beginning to Shibayama Chiyoda Station.
From Shibayama-Chiyoda station
1
Exit Shibayama-Chiyoda station
2
Cross the pedestrian crossing and go straight on the sidewalk.
3
Turn left at the first corner, 180m away, with airport fence on your right.
4
Go straight.
By Public Bus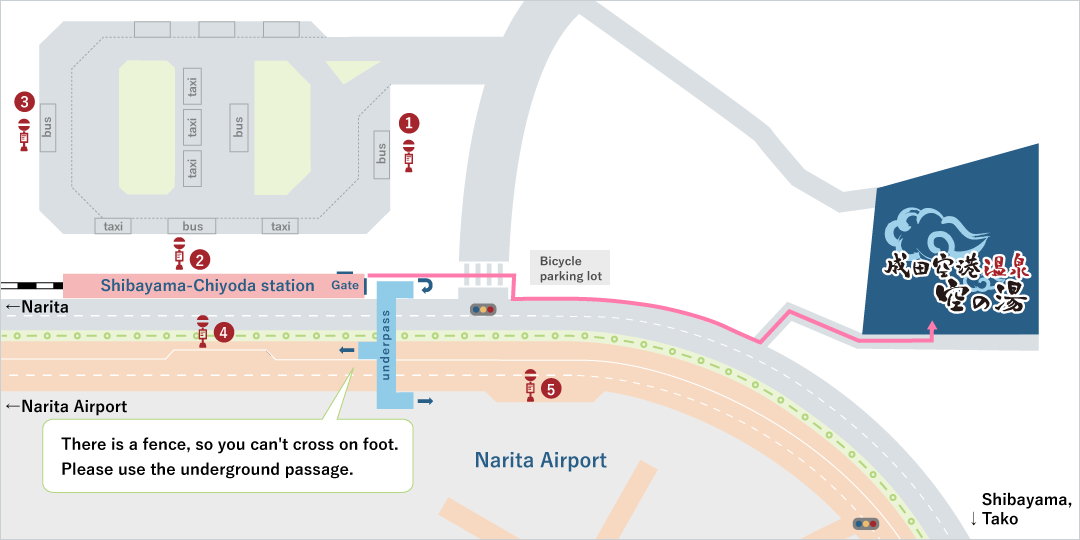 List of stops
Seibi-chiku (maintenance district)